Fernando Zavala already addressed the topic of digitization and social media in his feature about talents in the wine industry. Today we take a closer look at social media in the wine business with Amelia Singer.
Social Media Expert: Amelia Singer
Already at the age of six, Amelia Singer discovered her affinity for wine and food. Turns out that she is a real sensory person who decided to do what she loves most. "I wanna become the Jamie Oliver for wine!". She has fulfilled her mission statement. Today Amelia offers all kinds of services ranging from wine tastings or industry consultations to free personalized wine suggestions. A real wine enthusiast who thinks outside the box while keeping the focus on the big picture.
"I want to go into the wine industry. It is misunderstood. People either think it's an intellectual elite thing or get completely drunk. Why can't there be a middle-way like with food, art, music or even a good conversation?"

Amelia Singer
The wine business can be tough tho. Hard work, long hours whatever the weather. In the past, it was often characterized as being super conservative. Although this has substantially changed, there is still a lot of work to be done in order to improve the perception of people. Making wine is not an easy job. Taking care of the vineyard is often hard work and the grapes are exposed to all kinds of risks. It is a full-time job, where digitization and marketing are often neglected simply due to the lack of time.
During the sales ban in South Africa Amelia Singer, as a half American, made it her goal to get Americans into South African Wine to support winemakers that were hit badly by the crisis. "Many people still think of the Lion King when they think about South Africa." She makes use of Instagram Live Videos and hosts events that people all over the world can attend. She takes advantage of the opportunity to host digital wine tastings for everyone. 8 pm London, 9 pm Africa and brunch time in Los Angeles – there is always a time to enjoy wine.

Especially with the latest prohibition in South Africa, this was a great opportunity to help out wineries in South Africa to get through this tough time. She also helped local wine shops by curating and selling wine packs online. Especially during the lockdown, these honourable actions were well perceived by her social media audience and her partners. Amelia Singer raises awareness and builds up ties that may even lead to friendships between customers and wine-makers.
She also uses Instagram Live to come up with new formats. She invites interesting speakers from different sectors to talk about various topics in the wine industry like drinking trends or sustainable winemaking. This way she opens up the wine industry and creates insightful and entertaining content.
There is an entire repertoire of opportunities. Amelia Singer introduces the world of wine to different industries. With a positive attitude and enthusiasm, she manages to break down the hurdles and take her counterpart on a wine journey. She uses the wine figuratively as it puts a new lens on Geography, Arts, the environment or plants. To find out more about Amelia Singer, join her upcoming events on her website Amelia's Wine.
A textbook example by Aline Knodt-Trossen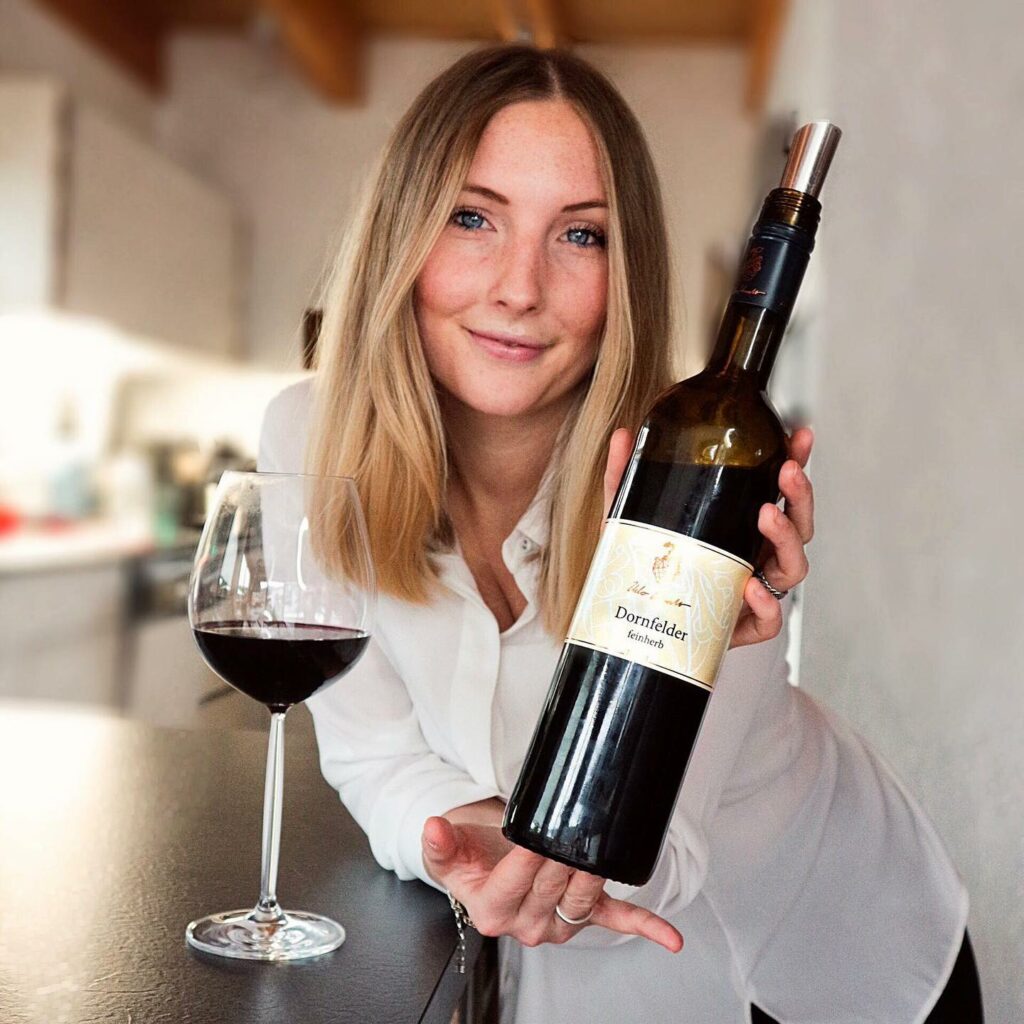 We are a small but fine family-run winery in the heart of the Middle Moselle, Germany. The winery was founded by my grandparents, who still actively help out on the winery. Today, my parents run the business while my sister and I took over marketing. We cultivate more than 3 hectares (7.4 acres) of vineyards around Kröv with top 70 % steep slopes. Riesling is the dominant grape at our winery with 50% of the vines. We also grow Pinot Noir, Pinot Blanc, Müller-Thurgau, Dornfelder and Kerner.
Growing up on the Moselle and having to help out in the vineyards, I never considered pursuing a job at our winery not to mention taking it over at some point. Hence, I decided to study business administration at the University of Augsburg with a major in marketing. After graduating, I moved to Cape Town in 2019 where I worked in digital marketing for two years. Due to the proximity to the Cape Winelands Stellenbosch, Franschhoek and Paarl, I got to visit amazing wineries. This ignited my passion for wine and made me return to our family business.

My sister and I set up social media channels for our winery. That was a crucial step for us because a good social media business profile is literally our digital business card. Nowadays, social media channels are the most effective communication for us.
Thanks to Instagram, Facebook, Tiktok, Twitter and LinkedIn we are able to make our brand visible to a variety of people who we would otherwise never be able to reach. It increases our brand awareness and helps to establish a direct relationship with our customers. Hence, we can actively get involved and meet their wishes and needs. Community Management is really the be-all and end-all for us.
Some good advice by Amelia & Aline
Language is key
Checking the language is crucial. Go with easy wording instead of complex foreign words that scare away customers. This goes for your website but especially for social media. Keeping the language hurdles low makes it easier to catch new followers. "Knockdown the boundaries and find a common language."
Addressing the young generation
On average people spent 2h 25min on social media per day. Especially the younger generation accounts for most of the time. Give them the chance to see your profile, your work, your story. These leads often convert to actual customers.
Telling a story
Storytelling is key. Share the story. What makes the wine and the winery so special? Making the story come alive by showing the wine-maker in front of the camera makes the entire experience more authentic. By giving insights into the cellar and the vineyards, customers can go on an imaginary tour through the wine region.
Talking about the golden "Why" always helps. Why is the winery sustainable? Why do we treat customers like family? One can use images and videos to answer all the "Why"s. Sharing all these answers proves that the winery is authentic and most importantly approachable.
What to post?
First off, the mix is important. Nothing is more boring than simply posting bottles of wine. Mixing it up by adding beautiful photos of the wine region or the winery makes a huge difference. What works best is the people. It makes the social media channel personal and authentic. Wine quotes, food pairing or quizzes are also great opportunities to keep your followers entertained and engaged.
It's fun and romantic!
Even though the wine business is mostly hard work, it also has a romantic and fun side to it. Expressing these imageries often leads to more visitors and customers. The small town can be a romantic place for a pick-nick or a stop for a bike tour. Attracting local tourism works especially well during times of Covid.
Learn from the best
Follow Amelia and Aline on their social media channels for more inspiration.