Institute of Contemporary Art
The Institute of Contemporary Art (ICA) located in Philadelphia, Pennsylvania is a modern art museum that does not maintain a permanent collection of art. Instead, it features dynamic exhibitions and programs that showcase the latest developments in contemporary art. The ICA offers a platform for emerging and established artists to showcase their work, supports experimental research, and encourages critical discourse on art and society. Since its inception in 1963, the ICA has shared the University of Pennsylvania's vision of promoting innovative research and cultivating creative thinkers.
Terence Nance – Swarm
"Terence Nance: Swarm" is the first solo exhibition dedicated to Terence Nance's innovative and genre-defying practice. The exhibition, which is curated by Maori Karmael Holmes and presented by BlackStar Projects and the ICA, runs from March 10 through July 9, 2023. Nance is a filmmaker, writer, actor, and musician who brings an interdisciplinary approach to his practice, layering video, sound, printed matter, and live performance in contemporary environments to create unexpected and alternative paths for creating work.
The exhibition highlights Nance's experimentation in film, television, sound, digital art and performance through the presentation of six large-scale, multi-channel videos and installations that the artist has reimagined specifically for the exhibition. The exhibition draws much of its influence from the communities in which Nance creates work, including his birth city, Dallas, his current home, Baltimore, and Brooklyn.
The exhibition's title, "Swarm," refers to a Brooklyn-based group of artists with whom Nance built a community in the early to mid-2000s. The exhibition opens with the new commission and video installation "Swarm Part Zero," a meditation on Black cinematic expression, Black music, resistance, and notions of community created specifically for the exhibition.
In "From the Void," visitors experience excerpts of past and recent work by Nance on a linear television station broadcast by Ummah Chroma, MVMT, and Telfar. An oval projection screen shows various works from Nance's catalogue, including a video from "Random Acts of Flyness," TELFAR.TV, music videos, and documentary shorts, among other works.
The exhibition in the main gallery concludes with "Swimming in Your Skin Again," a short film from 2015 celebrating the coming of age through dance- and movement-based works, scored by the artist's brother, the musician Norvis Junior. This installation consists of two screens next to each other, that change the perspective by duplicating, rotating and mirroring the video. Also, there are mirrors on the top and bottom of the installation that create an additional reflection effect.
The film addresses various topics ranging from capitalism, gender, politics, war, spirituality, love, Black lives matter to even the church of Beyoncé.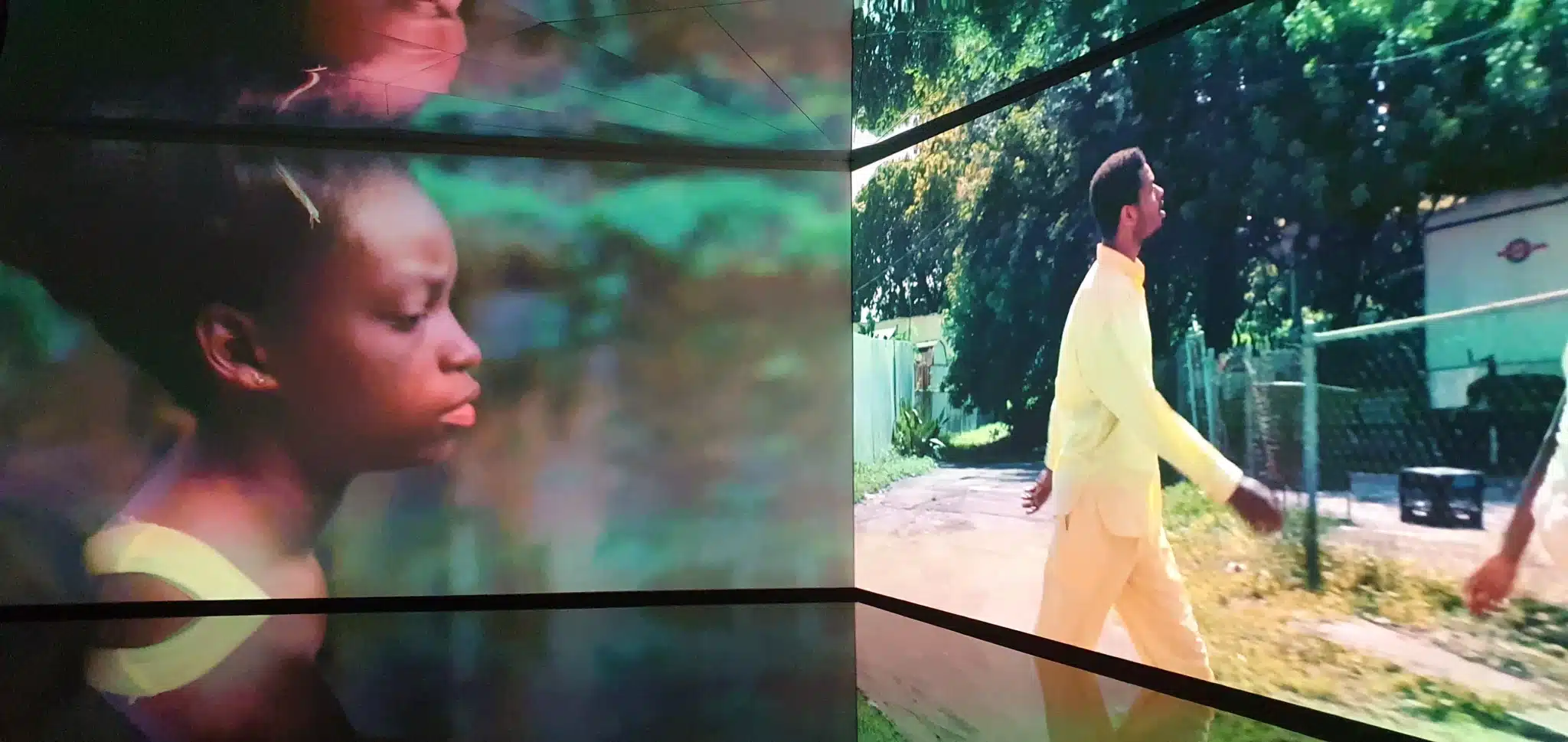 In the ICA's Tuttleman Auditorium, visitors have the opportunity to hear Nance's debut LP, "V O R T E X," in a special listening room created for the experience of this new album. Here is a short preview:
Carolyn Lazard – Long Take
The ICA is also hosting the first solo exhibition of artist and writer Carolyn Lazard. She is an artist working across disciplines and mediums in Philadelphia and New York. Her work explores the politics and aesthetics of care under capitalism, centring dependency as a site of abundance and collectivity. Lazard questions the way society values efficiency and ability over life itself.
Titled "Long Take," the exhibition explores the social and aesthetic dimensions of accessibility through documentation and performance. The exhibition features an immersive multi-channel video and sound work, anchored by four sculptures that reimagine existing ICA seating for media viewing. Visitors are encouraged to reconsider the form in which an artwork resides and why sight has been privileged in the spectatorship of dance.
"Long Take" furthers the ICA's mission of providing a platform for ascendant artists who spark dialogues on key contemporary issues and builds upon its commitment to advancing interdisciplinary practices. The exhibition is co-curated by Meg Onli, who is the co-curator of the 2024 Whitney Biennial.
Through "Long Take," Lazard examines the legacy of dance for the camera through the lens of accessibility as a creative tool. A sound installation anchors the work, which includes a recorded reading of a dance score, the sound of a dancer's movement and breath, and an audio description. To create the sound piece, Lazard provided dancer and choreographer Jerron Herman with an original dance score, filmed his performance, and subsequently collaborated with poet and artist Joselia Rebekah Hughes on the audio description of the recorded performance.
The installation invites the visitors to not just observe and listen but also to interact and follow the choreography. E.g.: [Snake Arms] – Who does not move his or her arms to these two words? Also, the dark environment takes away the shyness of looking weird while following the dance instructions.
The resulting work intentionally blurs the boundaries between movement, description, and translation. By presenting this dance work using text and sound rather than visually, Lazard examines how a performance might be communicated beyond its image and encourages us to think about ways that artworks are made accessible. The work also places new emphasis on the often-unseen networks of care, labour, love and friendship that make collaborative endeavours possible.
The exhibition at the ICA is experienced within a gallery covered with vinyl flooring mats, harkening to a dance studio. Within the space, Lazard places existing ICA seating, reimagined and altered with cushioning, backrests, and height adjustments. Through this sculptural intervention, the seating becomes more suitable for longer stays and more welcoming for visitors.
Both exhibitions are really worth visiting. Due to the wide range of formats from dance, to video, text and sound one can freely pick a topic and raise fundamental questions alone or discuss them with another visitor.