Twenty minutes North of Venice lies a small city called Treviso – la città d'arte. Besides being the city of art, Treviso is also the birthplace of prosecco wine, the famous dessert Tiramisu and last but not least CosaRara. Yet, most tourists go to Venice and leave Treviso unnoted. Fewer tourists, art and prosecco wine are enough good reasons to check it out.
Exploring the clean alleys of this traditional Italian city is already an experience itself. The water of the canals comes directly from the mountains and is crystal clear. The small cafés and art galleries look very inviting. No rush at all. The perfect place to have an espresso and enjoy the Italian culture.
Passing by a small villa at the Piazza San Francesco you can hear a professional pianist playing the piano and a sopranist singing a famous aria. The mesmerizing sounds lure one into the building. The doors stand wide open and a couple of chairs were carefully placed with distance. Only two seats are taken and the audience is extremely quiet. The reason being so respectfully silent was that you are in the middle of an International Masterclass of opera. Young professional singers practise with their vocal coaches in flip flops and casual outfits – unconventionally and refreshing.
Carlotta Mazzoni and Ilaria Ospici are both opera singers. Carlotta helps with the class organisation while Ilaria takes part in the Masterclass. "The class is hosted by Sherman Lowe and Sabina Arru, two professional vocal coaches that work with the best of the best worldwide. Nine young singers get the chance to improve their vocals and end the class with a concert," explains Carlotta. "We all try to listen to our individual vocal sessions to improve and develop our skills."
CosaRara – bringing opera to the public
Carlotta and Ilaria have the motivation to bring the opera Masterclass to the public. "It is a shame that even today people think that opera is just something for the elite. But it is actually not posh at all." Instead of lamenting they took action and founded the so-called CosaRara. A rare thing indeed – as one does not hear opera sounds too often in the streets of a small city.
In order to enchant more people, the professional singers stand in front of the door and approach people passing by. "We take turns because we also like to listen to our colleagues. But making people aware of what's happening in town definitely helps the cause.", says Carlotta Mazzoni.
CosaRara has the desire to communicate the love for lyric opera with simplicity, competence and enthusiasm. The singers want to share their passion with others involving them in a less traditional manner, more spontaneous and contemporary art form. By organising events with teachers, artists and other professionals they want to export the culture of opera to all people.
Due to Corona, there are only limited spots for the final concert. Of course, the tickets are already sold out. Yet, CosaRara invites people to come to the practice sessions. Also, there are live recordings and broadcasts via Instagram and Facebook.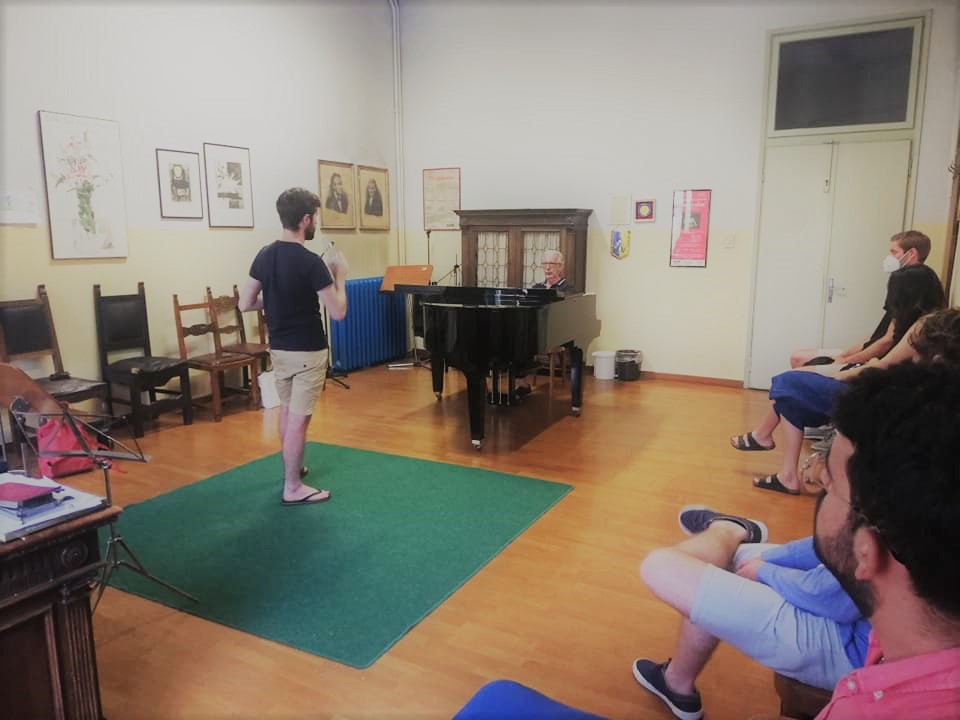 Singers from all around the world attend the International Masterclass. Germany, Switzerland, Canada, New Zealand and many more. are represented. It is a renowned class to work on the nuances within sounds that normal people might not hear.
The first Masterclass is offered by the internationally renowned voice teacher, Sherman Lowe and pianist vocal coach Sabina Arru. Singers are offered a wide variety of operatic repertories to be performed with four-hand piano accompaniment. They offer young pianists the opportunity to learn the fundamental figure of the collaborative pianist. The art of utilizing this form of accompaniment makes it able to relive this 19th-century practice of presenting classical music in the salons of noble palaces and other settings outside the theatre.
The singers & musicians
Anna Mahon soprano, New Zealand
Ilaria Ospici soprano, Italy
Gesua Gallifoco soprano, Italy
Jessica Poppe mezzosoprano, Germany
Laura Chareun mezzosoprano, Switzerland
Giuseppe Di Giacinto tenor, Italy
Angus Simmons baritone, New Zealand
Guido Dazzini baritone, Italy
Jonathan Munro countertenor, Canada
Sara Lupi pianist, Italy
Sherman Lowe, vocal teacher, USA
Sabina Arru, vocal coach, Italy
The founders

Carlotta Mazzoni: President
Arianna Remoli: Vice Presidente
Alessandro Argentini: Musical Director
Italo Scantamburlo: Counsel
Hera Hyesang Park: Counsel
Bruno Grandi: Counsel
Ilaria Ospici: Secretary
Voices
Jessica Poppe is a young German Mezzosopranist who is eager to work with Sherman Lowe at the International Masterclass Opera in Treviso.
"It is not always easy to practice. At home, I can only sing within a short period of time because of my neighbours. Our voices fill the entire room and it can get quite loud. Also, practising in a public park, for instance, is not an option because you depend on a certain acoustic and it could maybe disturb some people.
Especially during the times of Corona, we had many cancellations. That's why I started to take online vocal coaching sessions. At first, I thought it might not capture the right tones, but experience shows that professional coaches such as Sherman Lowe can still hear these nuances and help me improve my singing. By attending the courses like this I can learn from coaches and my fellow colleagues."

Grazie mille!
Bringing the professional opera out on the streets does not just enrich the entertainment programme, but it also contributes to different cultures. We thank CosaRara for taking us on an adventure into the world of opera – a very divine kind of art that takes years of practice.